Enter your cell phone number for promotions, discounts and event info*
Boardwalk Burger
FRESH BURGERS AND FRIES!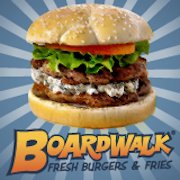 In the summer of 1980, brothers Dave and Fran DiFerdinando were strolling down the world famous Boardwalk in Ocean City, Maryland. They, like many other vacationers, had vacationed there as children and would come every summer to enjoy the rides and the legendary fresh-cut fries. They had the idea to make those famous fries accessible to everyone around the country, not just those at the beach. "Why would customers wait in line for just French fries", everyone asked? Because they are fresh-cut every morning, cooked multiple times in a special recipe, lightly salted, served piping hot, made to order. The two brothers opened the first Boardwalk Fries in White Marsh Mall, White Marsh, Maryland, in 1981 and by 1987 they had franchises from coast to coast. As time passed, customers began asking for more. They wanted a burger to go with their fresh-cut Boardwalk Fries. It couldn't just be any burger, it had to be consistent with their concept of a fresh product. The only solution was a never frozen, hand formed burger that was prepared every morning and made to order. Boardwalk Fresh Burgers and Fries was born! We use only fresh, never-frozen ground beef. Every morning we hand make every single burger patty. You can get our Boardwalk Burger as a single or double burger. Our customers have two options when ordering their burgers. They can choose one of our famous signature burgers, or have it totally customized to their liking. After you choose the type of bread (white or wheat), you have the option of cheese (American, cheddar, bleu cheese or Swiss) and bacon. Next choose from our free unlimited toppings and our free unlimited sauces. Our famous fries are hand-cut every day and only made to order. They are cooked in 100% peanut oil multiple times at different temperatures to give them that perfect flavor and texture. After the final cook at the hottest temperature, the Boardwalk fries are dumped and lightly salted and ready to be served just like Dave and Fran had them as kids growing up at the beach. We recommend dressing them the way they do in Maryland, with loads of vinegar and Old Bay seasoning!
Tags
Burgers, Fries, Burgers in Tigard, Fries in Tigard
*To stop all SMS messages, subscriber must text "STOP", "QUIT", "END", or "UNSUBSCRIBE" to 5419086171.